Glasses and Frames From Our Terre Haute Eye Doctors
Eyeglasses are used for function and fashion. Check out our wide selection of eye wear for every outfit and lifestyle. When you're ready for your next pair of stylish glasses, visit us at Dr. Blacks' office. We've been fitting patients with eyeglasses in Terre Haute for over 30 years, with a wide variety of frames for children, men, and women.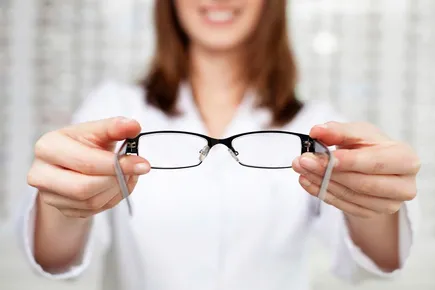 We have a wide selection of designer styles with enough choices to make you want an eyeglass wardrobe. Whether it's high fashion or useful work-wear, our team is ready to fit you with the right frame.
Visit our Terre Haute Eye Doctors
The first step in getting a new pair of glasses is a thorough eye examination. One of our Terre Haute eye doctors will check your visual acuity to determine the right lens prescription to correct your eyesight. After that, you'll get a complete eye health screening, which checks for glaucoma, cataracts, macular degeneration and other serious eye diseases.
The doctor will consult with you after the examination to explain the results of all the tests. If he/she sees any signs of developing eye disease, they will describe your prognosis and the treatment plan for you. After that, you'll be able to choose your eyeglass frames.
Designer Frames
Today's designers don't consider a collection complete unless they have eyeglass frames to match. We stock a wide range of designer frames for men, women and children, including:
Adidas
Guess
Silhouette
Nike
Ray-ban
BeBe
Oakley
Juicy Couture
Anne Klein
Realtree

Cole Haan
Jaguar
Swarovski
Vera Bradley
Converse
Lucky
Carrera
Tommy
Betsey Johnson
Mira Flex (pictured below)
Plus other brands such as: Genesis, Joseph Abboud, Revlon, Elle, Titanium, Diva, Excess, Tura, Titan Flex, Brendal, Geoffrey Beene, Candies, Sketchers, Covergirl, Catherine Deneuve, Jones New York and many more
In addition, we carry a range of children's frames, frames for sports and sport googles, and work-wear.
Lens Additions
Today's eyeglasses aren't simply just clear glass or plastic. We can add coatings to make your vision clearer, help keep your eyes healthier, and protect the lenses themselves. Some of the coatings we offer are:
UVA and UVB protection to keep your eyes safe from sunlight
Scratch resistance to protect from small scrapes and marks
Glare coating to prevent your eyes from squinting and drying out during driving and other activities in bright light
Blue light blocking to protect your eyes from light produced by digital devices such as monitors and smartphones
Looking for Terre Haute Eye Doctors? Call Us Today!
If you're ready for a new pair of eyeglasses, visit our office and see what a difference a great optical team can make. Call us at (812) 299-3937 for an appointment, and we'll be happy to fit you with the perfect pair of glasses.