Contact Lenses From Our Eye Doctors in Terre Haute
Most eye doctors spend a fair amount of time performing exams for and fitting contact lenses. Dr. Steven Black and Dr. Kayla Black provide quality eye care in Terre Haute, IN, including contact lens exams, eye wellness exams, and prescription glasses. Our office fits contacts for most people, including hard to fit contact lenses and cosmetic colored options.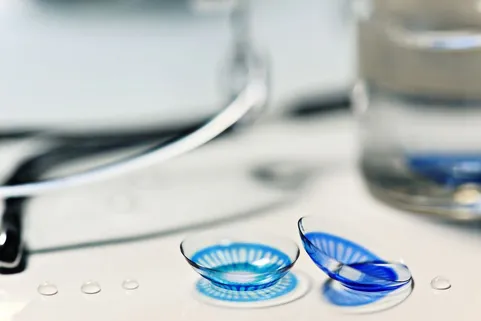 Contact Lens Eye Care
Contact lenses come in a wide variety of options these days for people seeking eye care in Terre Haute. Soft lenses are very popular and contacts such as rigid gas permeable lenses are useful for some conditions. You can find lenses that fit your needs, there's a variety of options for everyone.
How Long Are Contacts Good For?
How long the contact lens is intended to be worn for is another variable. Daily disposable lenses are worn for one day, from morning until bedtime, and then thrown away. Daily disposable contact lenses are the healthiest for the eyes. Other kinds of disposable lenses are intended to be worn during the day and taken out at night for cleaning, and can be worn for two weeks or up to a month. Some lenses are approved for continuous wear, which means that you don't have to take them out at night for a period of time and can range from a few days to a month.
Special Contact Lenses For Specific Eye Conditions
Contacts for astigmatism are common, and even come in daily disposable and extended wear options. Certain brands of contact lenses also offer UV protection built in the lens to help protect the eye from harmful rays from the sun. Presbyopia is another condition that can now be treated with contact lenses. These type of contacts enable you to see far away and up close without the use of glasses. Even patients with conditions like dry eye and keratoconus can usually find a contact that works for them.
Of course, contact lenses can also be used to spice up your appearance. Cosmetic colored lenses are available in both prescription and non-prescription forms. All kinds of colors are available, from natural to vibrant shades.
A contact lens is similar to a standard vision exam. We will measure the refractive error to determine what kind of contacts you might need, measure the front curvature of your eye for the perfect fit, as well as assessing your general eye health. You can always ask what we are doing at any point during the exam.
If you have a condition such as keratoconus, astigmatism or dry eye, we will discuss the best options for your specific needs. We will discuss with everybody the types of contact lenses available and the pros and cons of each.
Get Your Contacts Fitted by Dr. Black, Call Today To Make An Appointment!
Dr. Blacks' office is open Monday through Friday and fit contact lenses for many people. If you need any kind of eye care in Terre Haute, IN, contact us today to set up an appointment. We can be reached at (812) 299-3937 or through our website. New patients seeking contact lenses or any other kind of eye care are welcome!