Dry Eye Treatment
If you have dry eyes, some everyday activities might be much more difficult to accomplish these days. Dry eye affects both how your eyes feel and how you see. Our eye doctors can make eyes feel more comfortable and life more pleasant for patients.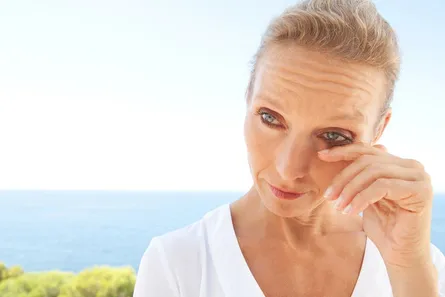 Dry Eye Causes and Symptoms
Dry eye sufferers in the United States number around 30 million. Eye doctors have diagnosed more than 300 million people across the globe with this disorder. It is one of the most common conditions our optometrists see. The list of potential culprits responsible for this disorder is long. However, these are the most common:
Genetics
Autoimmune diseases
Abnormalities of the eyelid
Dehydrating prescription medications
Neurological conditions
Reduced tear production from aging
Environmental factors such as a dry climate or windy conditions
Meibomian Gland Dysfunction
Affected individuals typically have difficulty completing enjoyable daily activities such as using a computer, watching TV, and reading.
Our patients report a variety of symptoms. These are the most common:
Irritated or red eyes
Burning
Stinging
Sensation of scratchy eyes
Sandy or gritty sensation
Blurred vision
Fluctuating quality of vision
Excessive tearing
Light sensitivity
Eye fatigue
Problems with contact lenses
If you have chronically dry eyes, you have a higher-than-normal risk of eye infections, damage from foreign bodies, and cornea ulceration. Fortunately, our optometrists has a number of options for dry eye relief.
Treatment for Dry Eye Relief
To find the cause of dry eye, our eye doctors conducts comprehensive examinations that begin with discussing a patient's history. They include assessing eye health, completing eye movement and focus evaluations, and performing eye and vision tests. Dry eye relief usually requires both professional and home care.
We might prescribe a medication to relieve dry eye symptoms. The most common treatment options are Restasis®, Xiidra® , corticosteroid drops or ointments, oral antibiotics, antibiotic drops or ointments, artificial tear, or fish oil.
Procedures preformed in office:
Punctal occlusion inserts a plug to cut tear drainage.
Use of scleral lenses and scleral devices treats an ocular surface disease that is severe.
A number of other outpatient therapies are available:
LipiFlow treats Meibomian Gland Dysfunction.
Lateral tarsorrhaphy reduces the evaporation of tear film.
Application of amniotic membrane reduces healing time.
At-home care options include using artificial tears and ointments, taking recommended supplements, applying eyelid scrubs, using warm compresses, and taking advantages of devices such as humidifiers.
Schedule a Consultation Today
Are dry eyes interrupting your normal activities? Call us today at (812) 299-3937 to schedule an appointment. Our two optometrists, Steven G. Black, OD and Kayla N. Black, OD, provide advanced vision care to meet all your needs. Our goals include providing care in a professional and comfortable environment and developing lasting patient relationships.