Dr. Black's Optometry, Your Trusted Eye Doctors in Terre Haute, IN
We proudly serve Terre Haute and the surrounding communities. Whether you're in need of a comprehensive eye and vision exam, treatment for an eye condition or anything in between, our skilled and experienced eye care team is here to help. Our patients enjoy our professional demeanor and high level of personal care with each appointment, and our office team strives to create a welcoming, stress-free environment for all patients.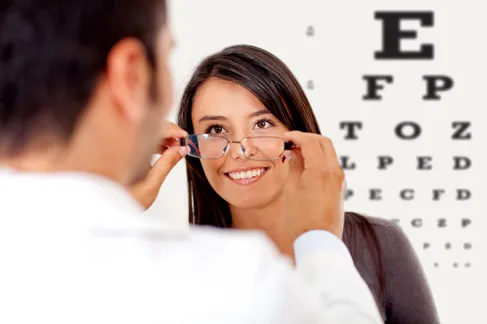 About Dr. Black's Optometry
We've been in business since 1983, so we've been serving the community for more than three decades. We take great pride in being a small company, which allows us to provide personalized care and build strong relationships with our patients. Dr. Kayla N. Black joined our practice in 2015, but she has quickly become a favorite among our patients. She is the daughter of our founding optometrist, Dr. Steven G. Black. Both doctors are proud Hoosiers, having received their doctorate degrees from Indiana University School of Optometry. Our optometrists are also members of the Indiana Optometric Association and American Optometric Association.
We're always committed to providing our patients with the most comprehensive and professional care possible, striving for 100% satisfaction among all of our patients. And because we understand that eye care can sometimes be confusing, we take the time to explain everything thoroughly to our patients so they feel comfortable and confident throughout each appointment and procedure.
Why Choose Steven G. Black OD & Kayla N. Black OD?
We know that you have a choice when it comes to the eye doctors you trust with your eye and vision health. So, what sets our doctors from other practicing optometrists in the Terre Haute area?
Continual Education: For starters, both of our optometrists work hard to stay up-to-date on all the latest advancements in eye health and vision care. This involves regularly attending seminars for continuing education, as well as advanced training courses.
Technological Advancements: Furthermore, we go out of our way to learn about and implement new technology and advancements in optometric care into our office so that our patients can enjoy the benefits. In this sense, when you come into our office, you can always rest assured that you're receiving the best possible care in a state-of-the-art environment.
Develop Lasting Relationships: Unlike some other practices, we're also committed to keeping our business small so that we can continue to develop lasting relationships with our clients. We believe our patients should never feel like "just another number" when they walk through our doors.
Request Your Appointment with Our Eye Doctors in Terre Haute, IN
If you've been looking for an eye care provider, Dr. Black's Optometry is the place for you. Schedule your appointment with us today by giving our office a call at (812) 299-3937; we look forward to serving you for your eye care needs!